KTM 450 RALLY Factory Replica 2022
Produktinfo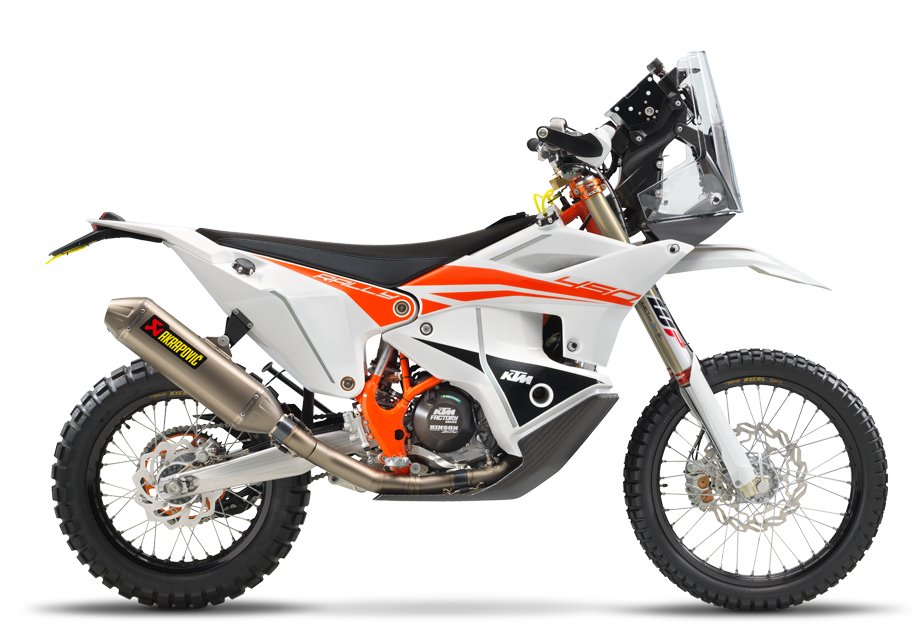 DESERT DOMINATOR
KTM has dominated the Dakar Rally since 2001. To keep the edge, a new factory race bike was unveiled at the 2018 Dakar rally. For 2019, the same overall design, layout and features are now available to non-factory riders with serious Dakar, rally raid and cross-country rally ambitions.
Motor og eksos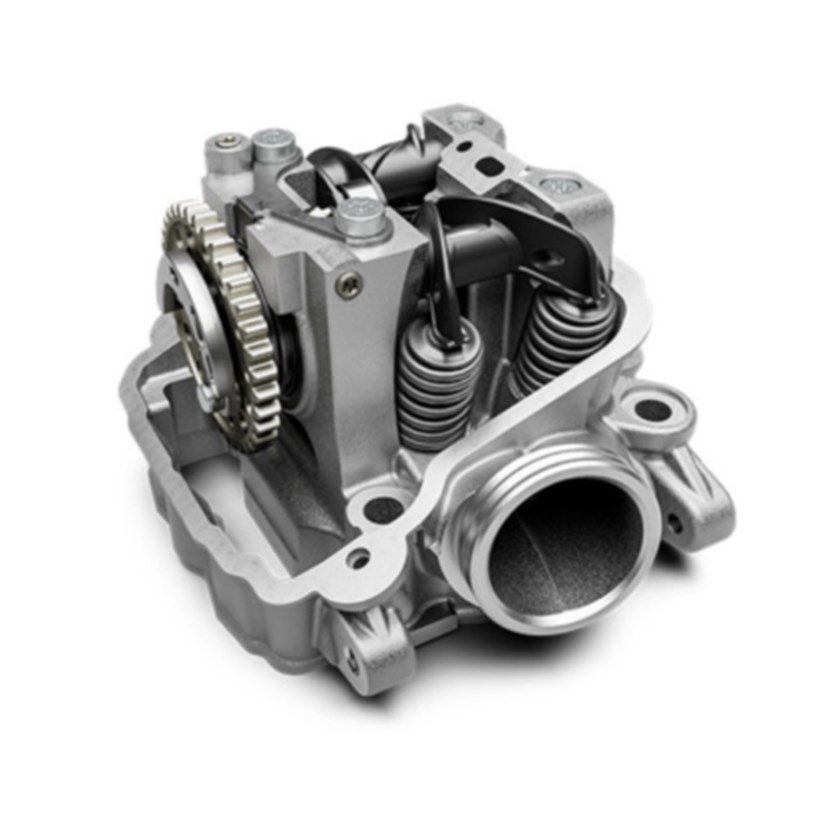 Motor og Eksos
Light weight and high performance are needed for sheer speed and agility offroad, but in the extreme environment of rally and desert racing, durability and reliability are critical too. The new powerplant balances race winning performance with the ability to go all the way.
Chassi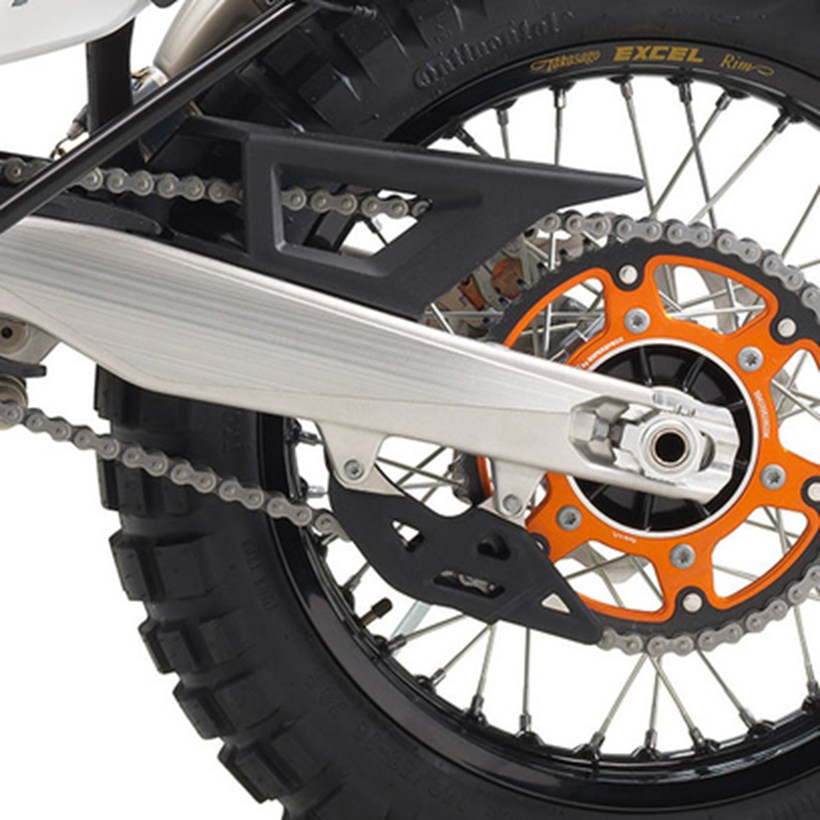 Chassi
The speed, demands and dynamics of racing in the most extreme long-distance offroad races on the planet, means that there is a lot more to the chassis design than 'just' agile handling. It needs to handle unpredictable forces, while carrying enough fuel, tools, water and equipment to cater for all possibilities in the battle for long-distance offroad race glory.
Ergonomi og komfort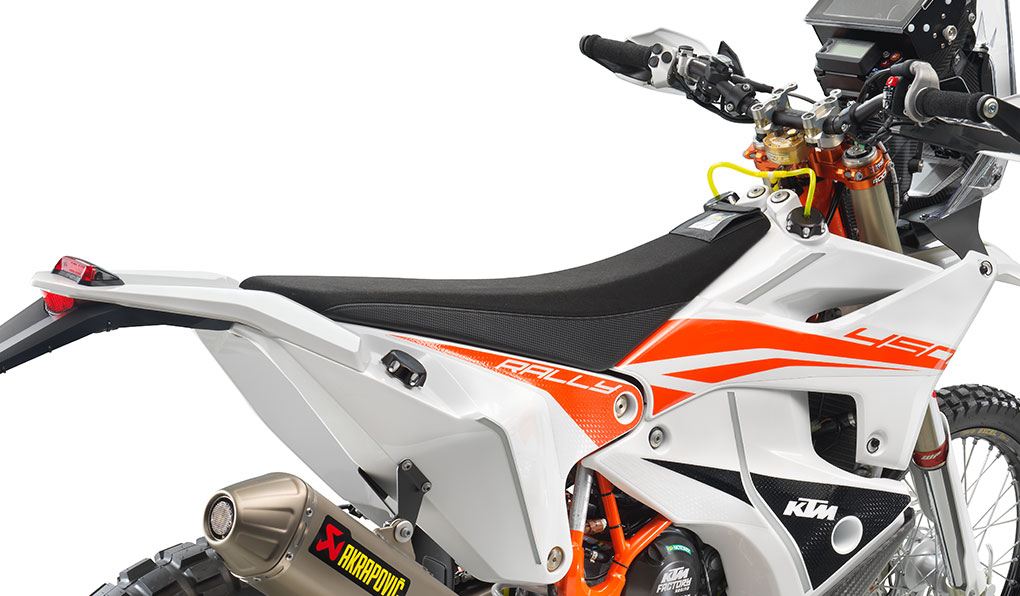 Ergonomi og komfort
With a sport as extreme as this, the rider cannot have his movement or control compromised at any time in the wide range of terrain types and situations he will encounter. The challenge was to allow exceptional athleticism and range of movement at any instant, while also ensuring that the rider is comfortable enough to focus and maintain their pace all race long.
Seats
Between the rider and race bike lies a newly shaped seat. It provides improved ergonomics, increased grip and heightened control, while boasting better seat comfort for longer distance race action.
Bodywork og dekaler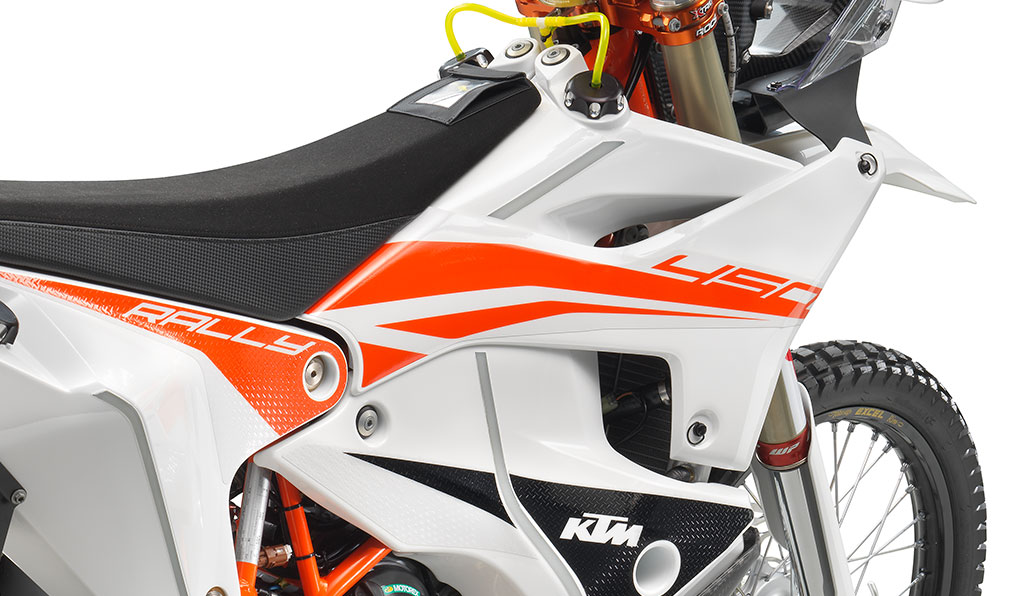 Bodywork og dekaler
The challenge with the 2019 KTM 450 RALLY REPLICA's bodywork design, was to allow maximum rider movement for all extreme race scenarios, with high wind protection, lowered helmet wind turbulence, all while ensuring there was very little to cramp or distract the rider while in full flight. A comfortable posture with access to all of the relevant equipment and information while still fixed on the track ahead. Reducing weight, heightening agility, and keeping mass as centered and low as possible, were of high importance.
Bodywork
With direct input from KTM's factory racers, the new bodywork was designed and shaped to keep the bike as slim as possible. The aim was perfect ergonomics and contact points for the rider, with more freedom of movement. A newly-developed navigation tower made of extra-light carbon fiber is well protected behind the new fairing for […]
Programvare og elektronikk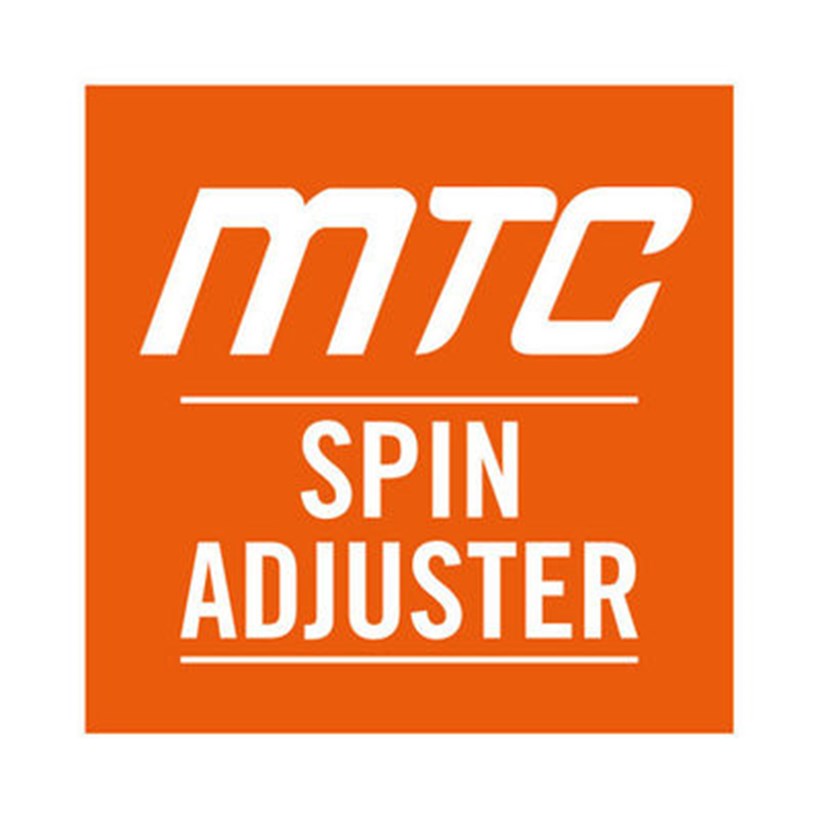 Programvare og elektronikk
Ride modes allow the rider to adapt the behavior and feel of the engine, while KTM's lean angle sensitive traction control system (MTC – Motorcycle Traction Control), reduces wheel spin based on the chosen mode or riding situation. KTM's cornering ABS system allows riders to use the full power of their brakes while taking the lean angle of the motorcycle into account. It has an advanced offroad mode that can also be turned off.
Tilbehør Tilbehør
On an adventure ride, storage space is essential. Tools, camping gear, food – KTM offers a solution for all circumstances. You can choose from a lightweight, lockable aluminum touring case set (two sizes), or waterproof soft sidebags when low weight and flexibility are needed. There's also a quick-lock tank bag for daily essentials and waterproof universal luggage for additional cargo capacity.
Tekniske detaljer
TECH DETAILS
Engine

Design

1-cylinder, 4-stroke engine

Displacement

449.3 cm³

Bore

95 mm

Stroke

63.4 mm

Lubrication

Forced oil lubrication with 2 oil pumps

Transmission

6-speed

Cooling

Liquid cooled

Clutch

Wet multi-disc clutch, hydraulically actuated
Chassis

Frame design

Chrome-moly tubular space frame, powder-coated

Suspension travel (front)

305 mm

Suspension travel (rear)

300 mm

Front brake disc diameter

300 mm

Rear brake disc diameter

240 mm

Chain

5/8 x 1/4″

Steering head angle

62.5 °

Seat height

960 mm

dry weight

139 kg