KTM 1290 SUPER DUKE R 2019
Produktinfo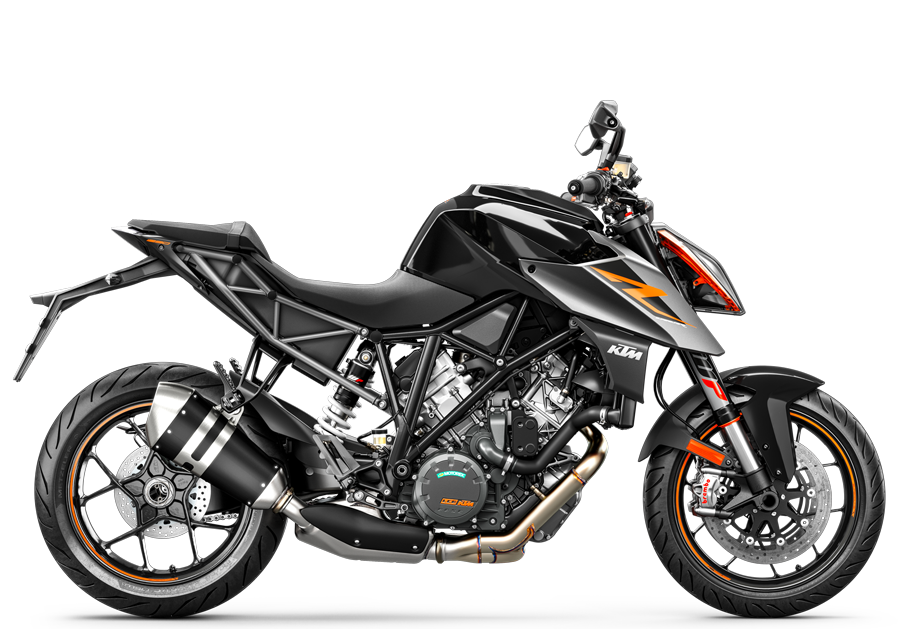 ADVANCED SPORTS TOURING
The 2019 KTM 1290 SUPER DUKE GT takes the already-proven long-distance performance of the previous GT model and amplifies it even further with added improvements. The same deranged combination that the previous SUPER DUKE GT had of THE BEAST's interstellar V-twin performance with the comfort and equipment needed for all-day, two-up charging – but now intensified with additional enhancements, refinements and new features which further boost performance, while adding to its long-distance hunting skills.
Motor og eksos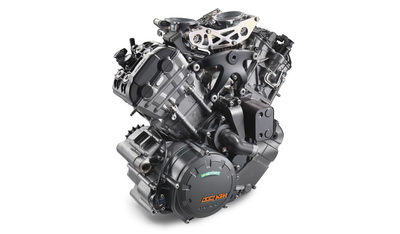 Motor og Eksos
Fast just became faster. This is our punk record – pure, raw and straight to the point: speed. Its V-twin is the most powerful one we ever muscled into a street bike. This Beast beats the battle drums at 177 HP (130 kW).
Chassi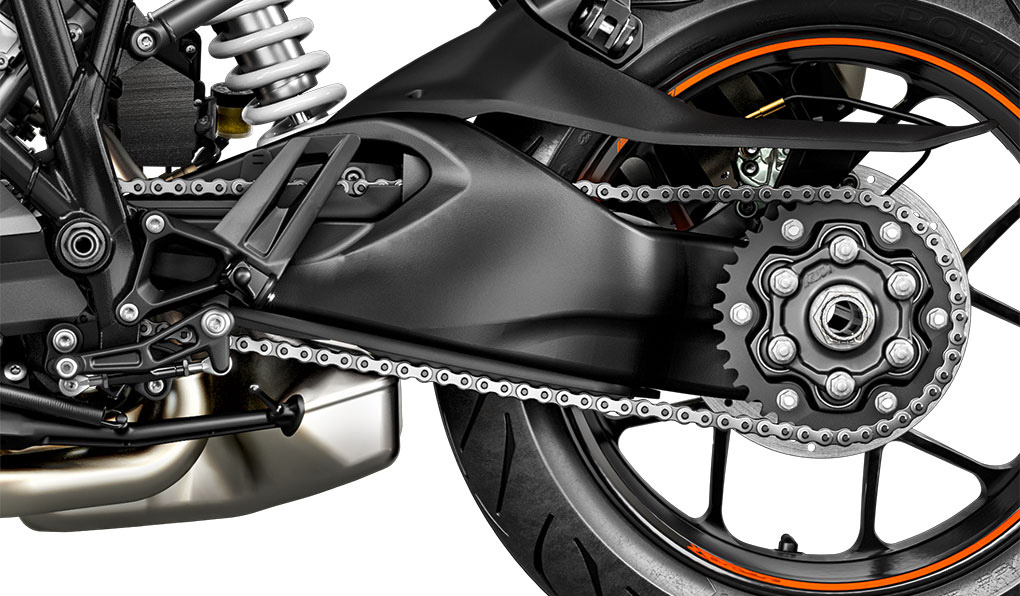 Chassi
With its ultra-lightweight yet extremely stable trellis frame, a beautifully manufactured single-sided swingarm and state-of-the-art WP suspension components, the KTM 1290 SUPER DUKE R exceeds all requirements for stability and control. Tubeless wheels, 17-inch front and rear, with the latest Metzeler M7RR tires offer tremendous traction on asphalt and let you exploit the bike's capabilities to the fullest. Feedback? Check. Safety? Check. Fun? Double check.
Ergonomi og komfort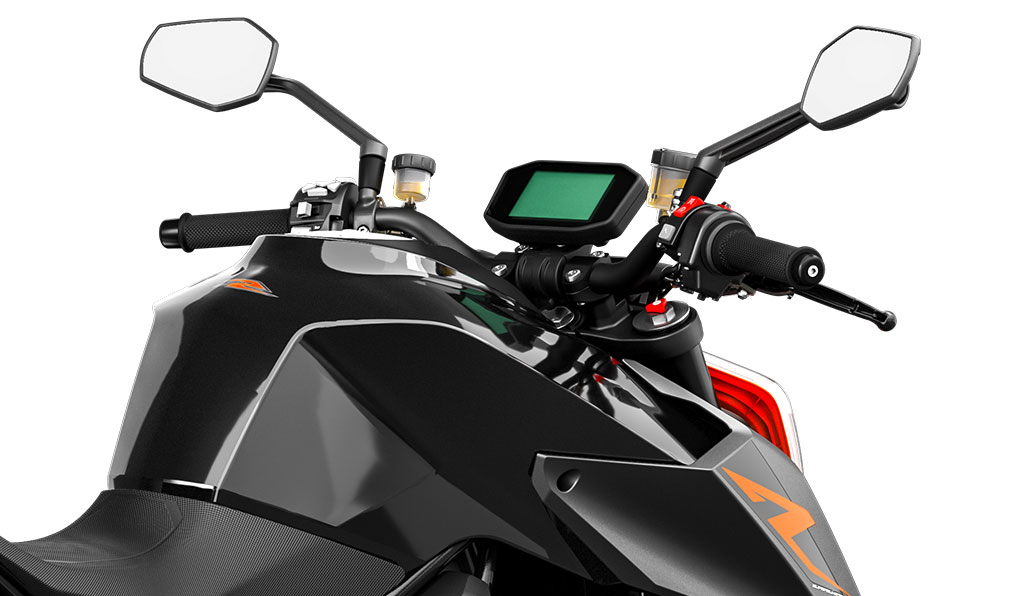 Ergonomi og komfort
The powerful and cultivated engine enables either super-sporty propulsion or, when required, relaxed and comfortable riding – with every conceivable level in between. The chassis combines lightness with outstanding geometry and fantastic suspension, which, together with every feasible electronic riding aid, allow unimaginable riding pleasure in all conditions at whatever speed you desire, from very relaxed to very, very fast.
Bodywork og dekaler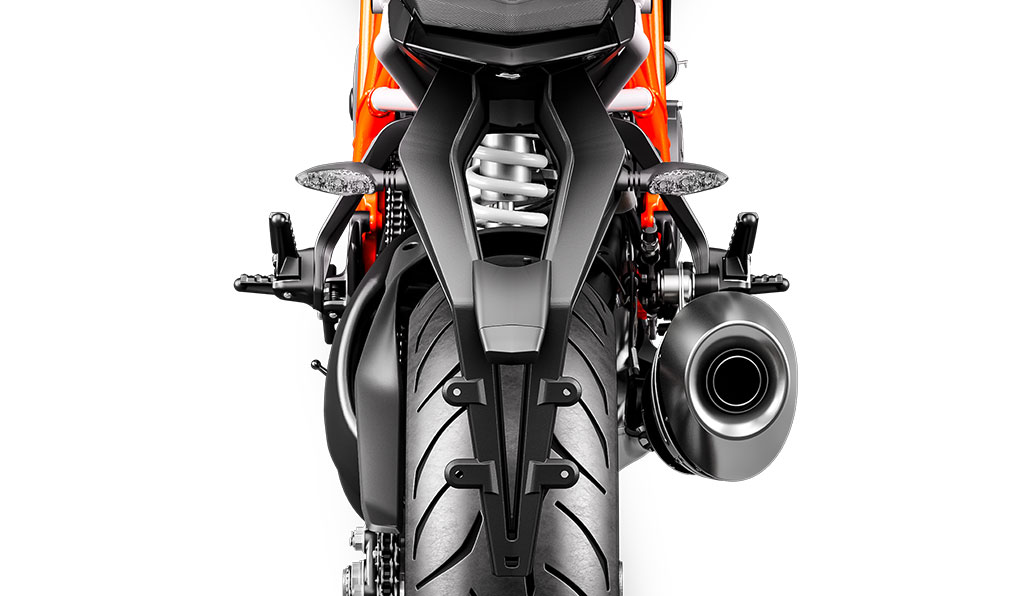 Bodywork og dekaler
The bodywork with sharp rear end, extended tank spoilers and air intakes, the ultra lightweight chrome-molybdenum steel trellis frame and the ready to race WP suspension components convert brute power into a usable tool. The elimination of plastic parts shouts 'NAKED' and create a BEAST that is always READY TO RACE.
Programvare og elektronikk
Programvare og elektronikk
Conquer the streets and the racetrack with a unique look and features that realize the full potential of The Beast. Unrivaled braking from world market leader BREMBO, and assistance systems (MTC and lean-angle sensitive ABS) developed in close collaboration with BOSCH, round off the package and help the 1290 SUPER DUKE R into a clear lead, from the start.
Tekniske detaljer
TECH DETAILS