KTM 1290 SUPER DUKE RR 2022
Produktinfo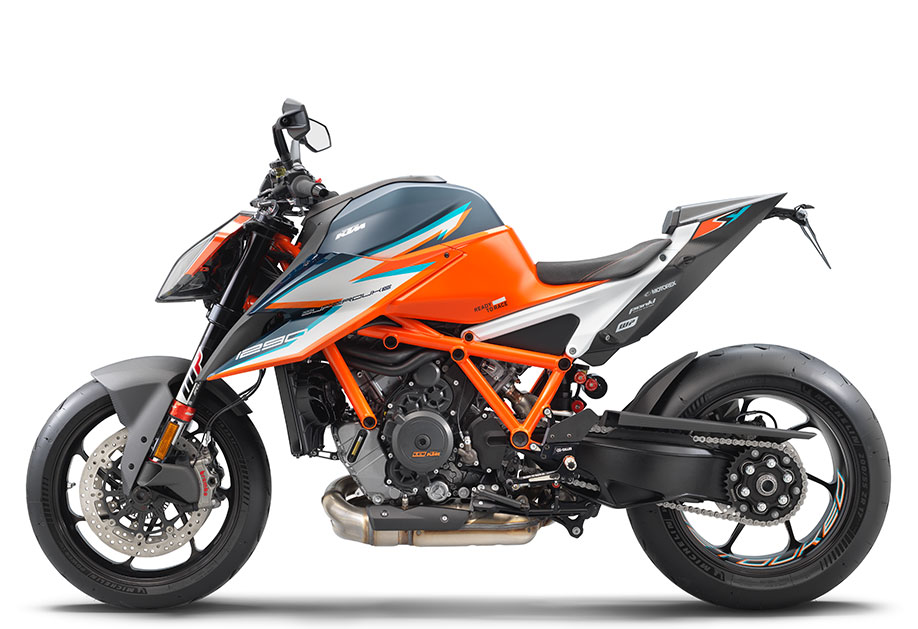 Based on the latest KTM 1290 SUPER DUKE R PROTOTYPE, the KTM 1290 SUPER DUKE RR is the very definition of READY TO RACE. 9 kilograms lighter than the standard KTM 1290 SUPER DUKE R, boasting a 1:1 power to weight ratio and ultra-exclusive, lightweight carbon fiber bodywork, the KTM 1290 SUPER DUKE RR is an all-new BEAST with an even meaner streak.
Motor og eksos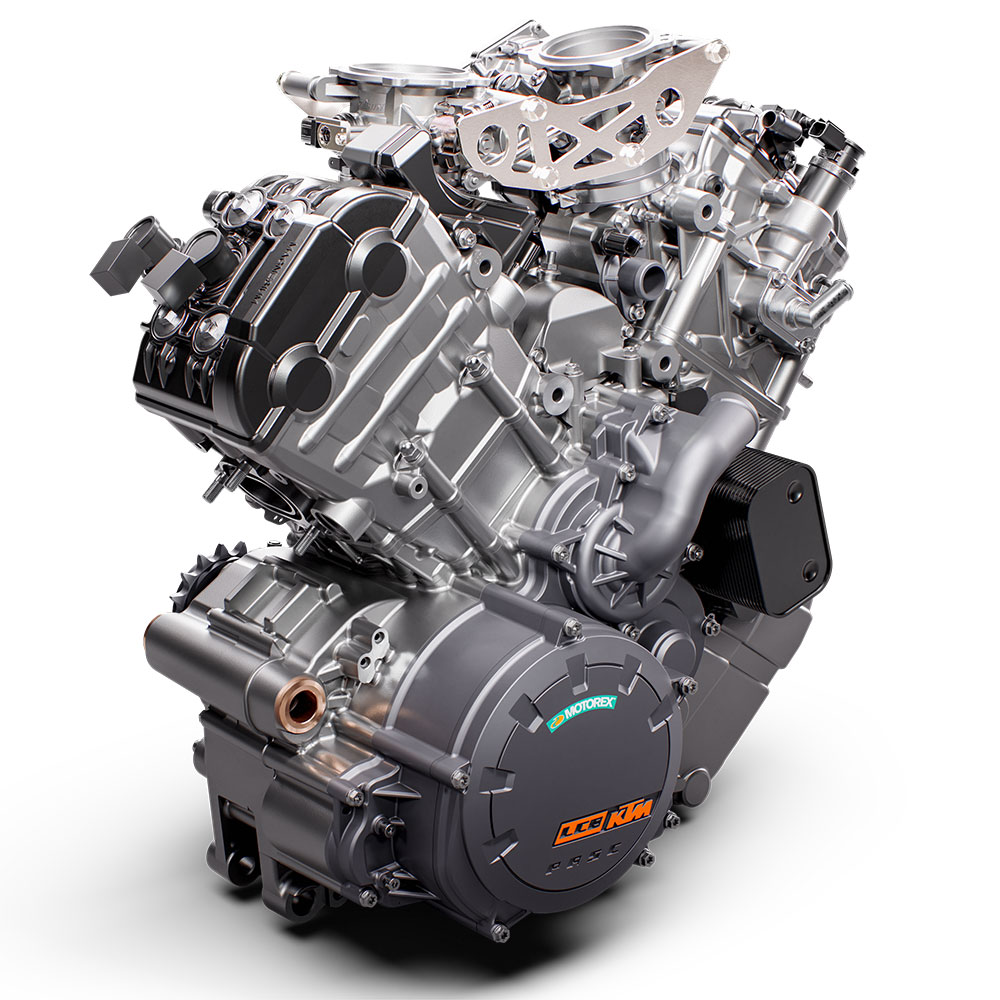 Motor og Eksos
Boasting 180 hp and 140 Nm, the 1,301 cc LC8, V-Twin, this beating heart of the BEAST deserves little introduction. However, due to the times, this engine is EURO5 homologated, but most importanly, and thanks to an overall weight reduction of 9 kg – the KTM 1290 SUPER DUKE RR has an incredible power to weight ratio of 1:1.
Chassi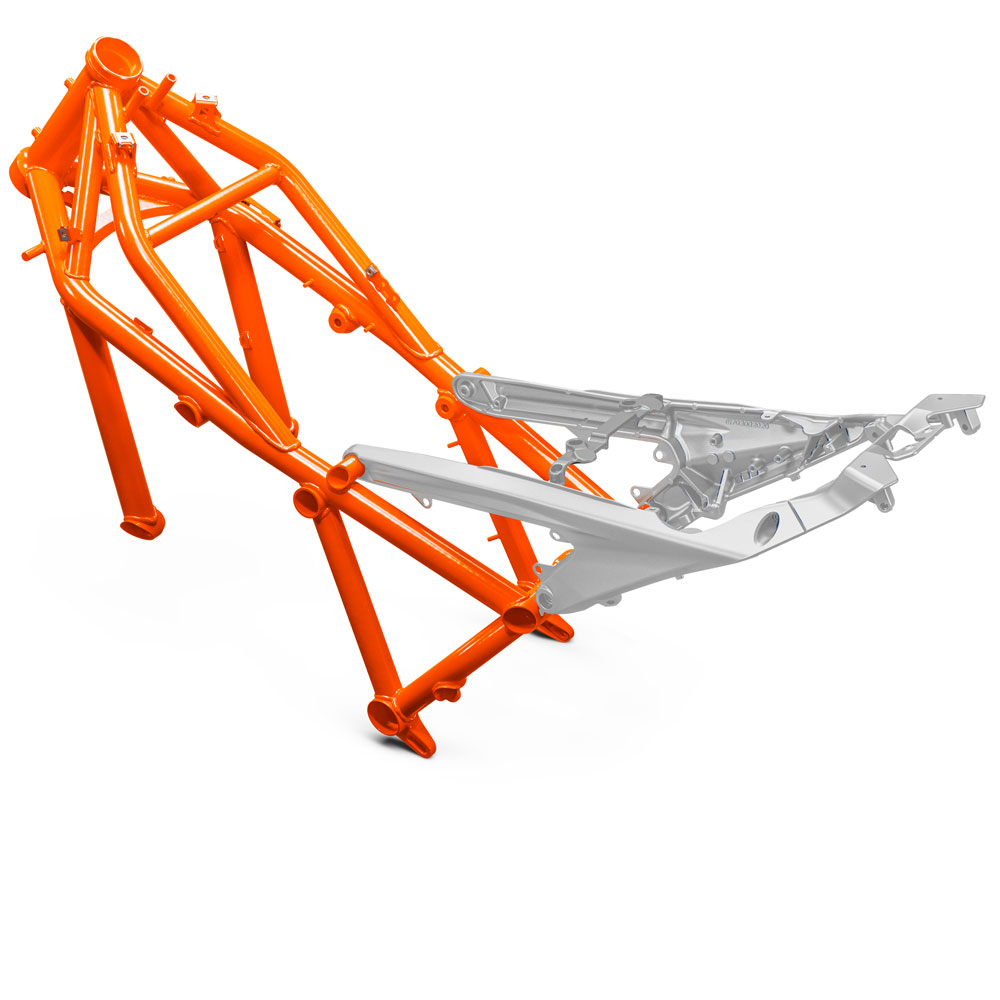 Chassi
The frame uses the engine as a means to increase torsional rigidity, meaning the KTM 1290 SUPER DUKE RR is super stiff. This allows for an effortless, confidence-inspiring riding position, translating into an ultimately faster ride. This is achieved by maximizing the feedback from the chassis and the front tire. The frame also makes use of thick diameter tubes with thin walls for optimal stiffness and weight.
Ergonomi og komfort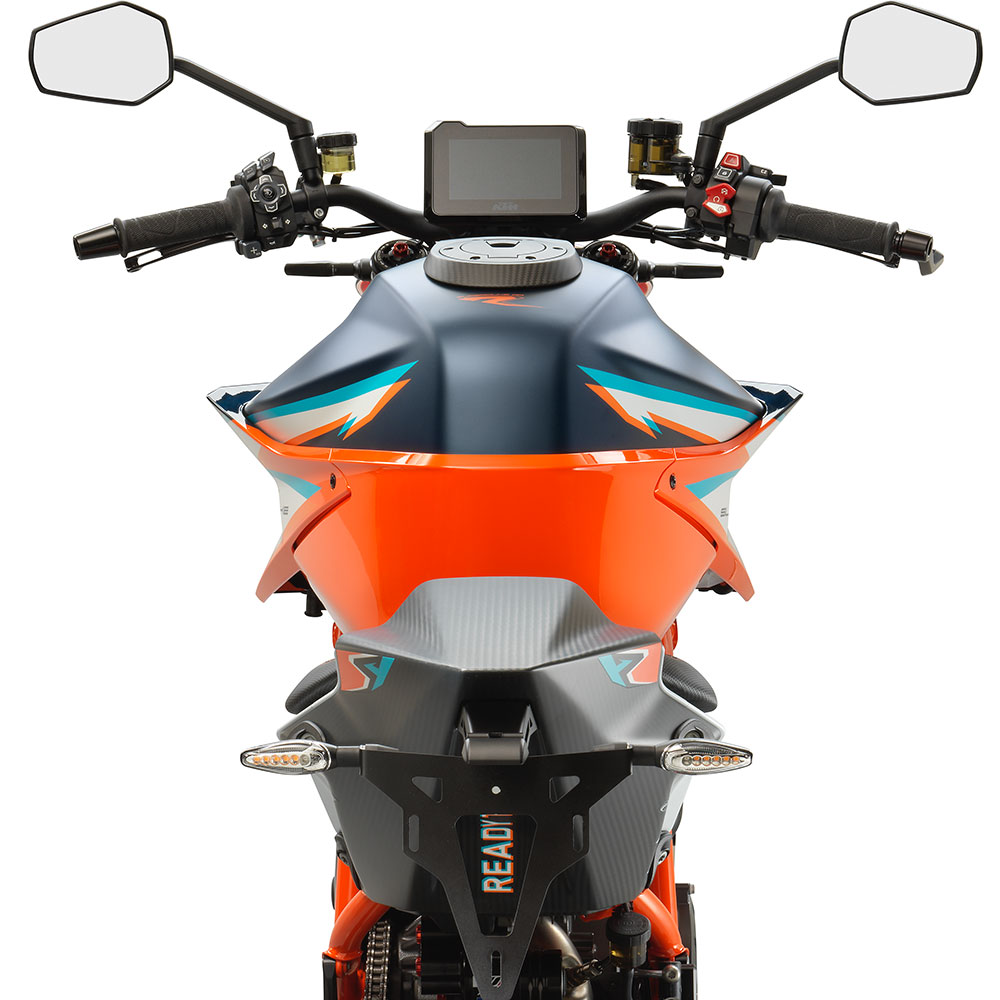 Ergonomi og komfort
Finding the optimal seating position is made easy with an adjustable 760 mm wide handlebar. Riders can tailor their preferred reach with 4 positions over 22 mm, front to back, making it easy to attack corners and crucial for hanging on down the straights.
Bodywork og dekaler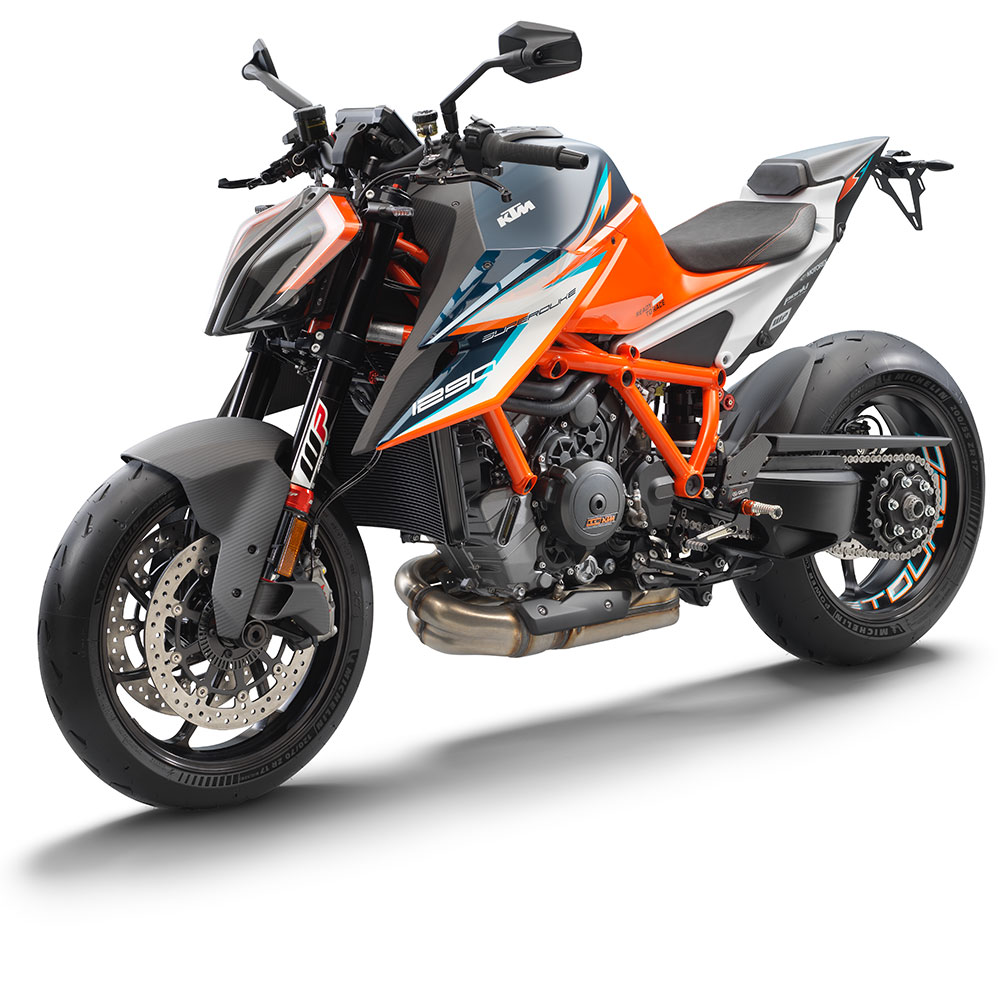 Bodywork og dekaler
The KTM 1290 SUPER DUKE RR has taken the NAKED bike ethos and stripped it down even more. In an unrelenting hunt to save grams, almost every single body panel is made from carbon fiber. Even the thickness of the panels was carefully scrutinized to ensure optimal weight saving. But, these aren't merely lightweight – they add stiffness and a more muscular, imposing look.
Programvare og elektronikk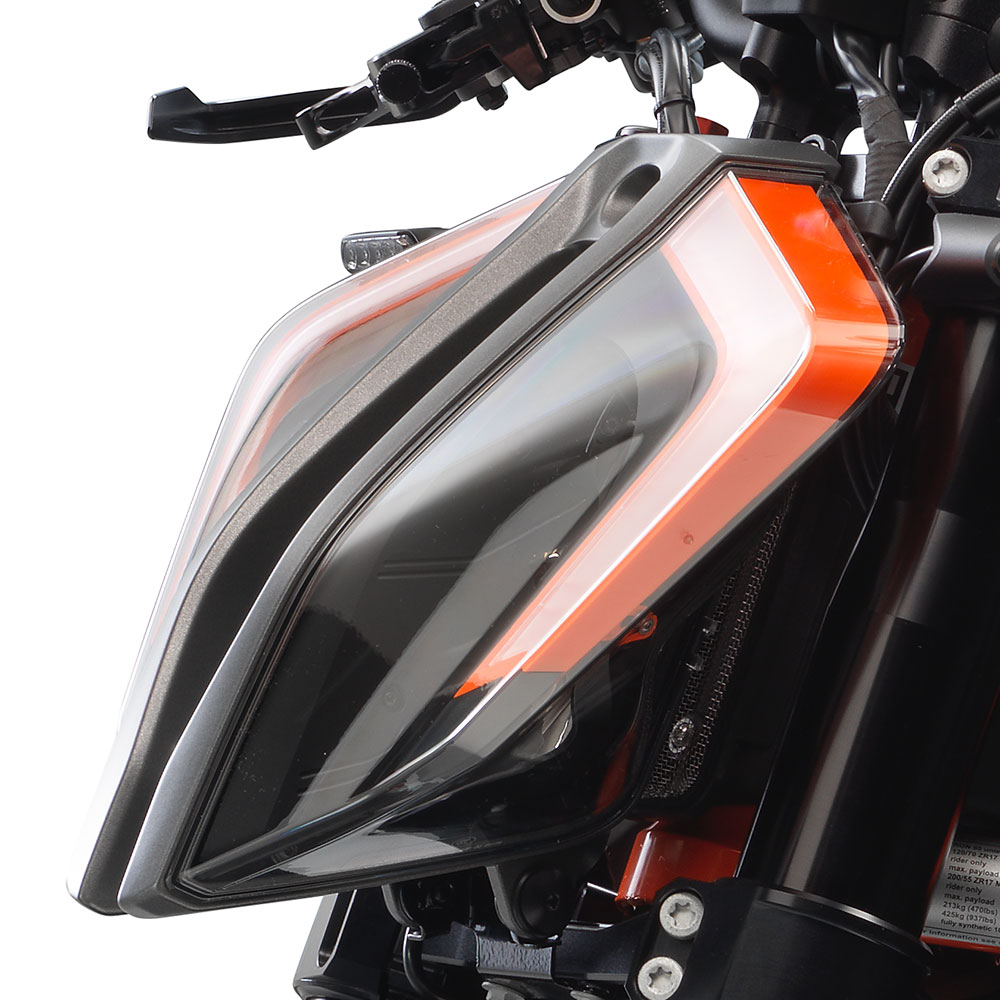 Programvare og elektronikk
Like the KTM 1290 SUPER DUKE R, the headlight mask doubles as an intake snorkel. Sharp, menacing lines enhance KTM 1290 SUPER DUKE RR's overall look while providing ample illumination when day turns to night. Speaking of, daytime running lights ensure you will get noticed, which not only makes you stand out in a crowd of sad sportsbike riders, but more importantly, makes you more visible to other road users.
Tilbehør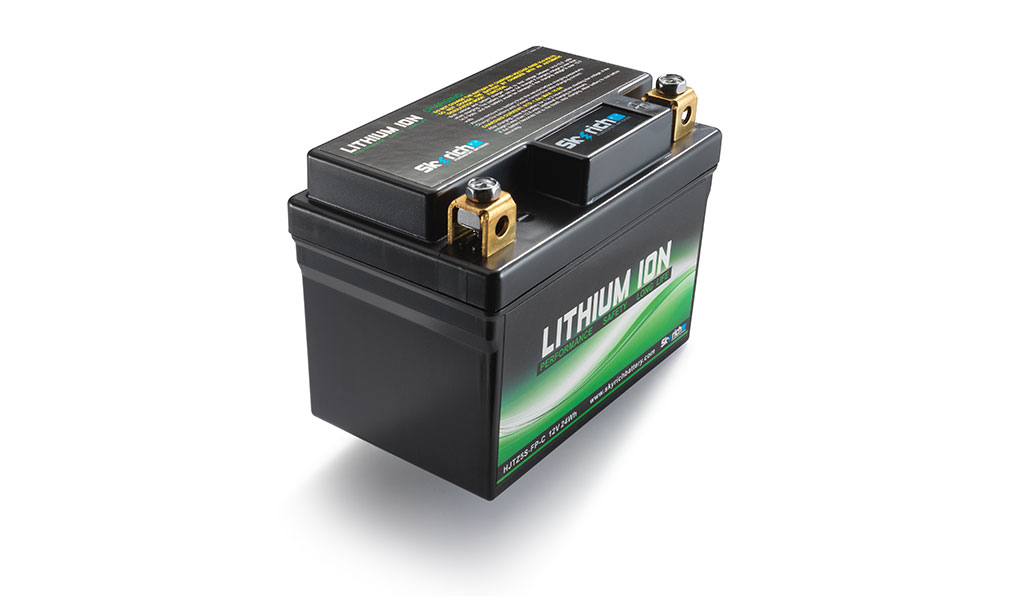 ACCESSORIES & LUGGAGE
Not enough for you? Well adding even more performance to this BEAST is only reserved for the brave! All KTM PowerParts are developed for their respective machines, meaning that KTM 1290 SUPER DUKE R riders only get parts that perfectly complement their ride and provide the same 'factory fit' straight from the dealer – allowing you to refine your BEAST's functionality, look and feel to better fit your personal needs.
Tekniske detaljer
TECH DETAILS